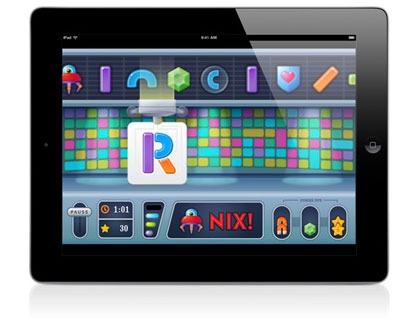 Welcome to Alphabuild!
Catch the shapes from the conveyor to build your letters, and dodge the baddies before they cause trouble. Collect power-ups, pop bonus bubbles and earn stars as you go! And don't worry if you make mistakes… Alphabuild lets you play new rounds until you've earned perfect gold stars. Rich visuals and snappy gameplay make Alphabuild a fun educational alphabet game for kids and a zippy reflex game for parents.

Video Tutorial
Key Features
Level 1 (Basic) difficulty is set for ages 4 and up.
Level 2 picks up the pace, and introduces silly hazards. Tap them before they reach your letter!
Level 3 requires quick reflexes and concentration.
Go For Gold! Play again till you have all gold stars.
Tilt your device to control the conveyor belt speed.
Play in Alphabetic order, or Randomly.
Detailed Tutorial, plus hints on the Home screen.
Separate score boards for each of the three levels.
Visual hints make it easier to spot the baddies.
Human & Robot voice; plus detailed sound controls.
Bonus A-Z Soundboard Activity.
A fully designed experience, with rich visuals, fresh soundtrack and whimsical sounds.
No sneaky in-app purchases or locked levels. Just a creative new way to play with the alphabet.
Reviews and Recognition
Alphabuild has received high marks from app reviewers, teachers, parents and kids! On iTunes, Alphabuild is averaging 4.8 stars out of 90 global reviews. Here are the kudos it has received from kids-app websites so far.
…A fun and exciting game for both kids and parents. The educational value it provides for the kids is also a nice addition to this game." — I Heart This App
Parenting Magazine, ScreenPlay App of the Week!

…Unique, well-done and with a ton of cool things on a conveyer belt. A lot to it for 99¢." — Smart Apps For Kids
I'm all for games that make learning entertaining and engaging. Alphabuild does both." — The iPhone Mom
…An addictive moving puzzle game…. The educational reinforcement is so seamlessly integrated that it's impossible to tell where the learning begins and the game ends, they're one and the same; the best kind of educational game." —AppsForHomeschooling
Alphabuild is perhaps one of the best, if not the best, apps to teach the alphabet." —Lunchbox Reviews
Alphabuild is a wonderful app to teach kids colors, shapes, and letters while building cognitive spatial awareness and critical thinking skills." —SmartAppKids
Staff Favorite, iTunes App Store, China. Feb 2012.

A fun little game that is unlike anything we've come across while reviewing apps. There's just the right mix of fun and educational content." —Famigo
Alphabuild art featured on the design site PXApps.

…Instructive in a playful manner!" [5 stars] —KidsAppsAwards, NL
…a cute new game that will keep your kids entertained for hours." —AppDictions
"I'm very impressed with how fun this game is and how quickly it draws the kids into learning." — 3KidsandaniPad
Alphabuild icon and game art featured on app design site iOSINSPIRESME.
Gallery
[nggallery id=1]

How to Play Alphabuild
GOAL Build letters by capturing letrons (colored symbols) from the conveyor belt.
LETRONS™ The colored pieces in each letter let you know exactly which letrons to capture. Match letrons by their color, not necessarily the way they're facing.
CAPTURING When a useable letron enters your light field, tap in the center area of your screen to capture it. Avoid incorrect letrons. Once you finish a letter, your ready to start the next one.
STARS Capture only the letrons you need to earn a gold star! Click on one wrong letron, and you'll earn a blue star; two incorrect letrons gets you green; and three or more gets you a purple star.
ROUNDS Once you've completed A-Z, you can 'Go For Gold' and replay any letters that didn't get perfect gold stars; or you can start a new game. If you get a high score you will be invited to enter it.
POINTS You can earn more points by: playing fewer rounds, catching bonus objects, tapping away baddies, popping bubbles, and by capturing the very first correct letrons that roll into your light field. (Uncaptured letrons drop your score, but do not affect your Star ranking.)
BUBBLE LETRONS Tap on bubbles to release their letrons! You can only capture letrons once they have been popped free. You get a bonus point for every bubble you pop.
OBSTACLES In Levels 2 and 3, keep an eye out for baddies. Tap them and they'll transform into normal letrons. Let them cross your light field, though, and they'll cause trouble.
POWER-UPS Catch the Letron Magnet, Do-Over Gem or Gold Star Boost when they enter your light field! They'll be kept in your control console. Tap to deploy them at any time. The Letron Magnet grabs all usable letrons currently on the conveyor. Time it right and you can finish a whole letter in one click! The Do-over Eraser lets you start fresh on your current letter… in case you've made a few mistakes. The Gold Star Boost gives you instant gold star ranking, but it's still up to finish the letter, so click carefully to stay at Gold.
CONTROLS Slide your letter block to the left and right to avoid baddies, and to intercept good letrons. Tilt your device left to speed up the belt, or to the right to slow it down. Clicking the lower left corner of Alphabuild screen will pause your game. You can look at the tutorial and check the scoreboards while Paused. You can even change level and other game settings mid-game.
Ten Alphabuild Game Hints
Alphabuild is designed to be a casual, no-penalty arcade alphabet game. But the scoring system also allows for competitive play. Here are some hints for increasing your score.
Capture the first viable letrons that roll by for each letter. Each time you allow a needed letron to roll past your light field, your scoring drops a point.
Complete letters quickly. In conjunction with capturing the earliest letrons, try to finish each letter as quickly as possible to earn bonus points.
Pop the bubbles on the conveyor belt, even if you don't need their letrons. You get a bonus point for each bubble you tap. …Just don't get distracted by popping, or you might miss letrons and get hit by obstacles.
Zap the baddies! Earn a bonus point for each baddy you tap away on the belt.
Dodge the baddies. If you can't react in time to tap away a baddy on the belt, you can touch and slide your letter block just before a baddy crosses your light field. When your letter block is moving, your light field turns off and nothing can enter your letter block.
Play the higher levels. Level Three has the highest scoring factor, but it requires quick reflexes.
Tilt left. Tilting your iDevice down to the left causes the belt to speed up, which enhances your score.
Keep right. You earn higher points when you place your letter block near the right edge of the screen. Just be ready to capture and zap at lightning speed.
Play the fewest rounds possible. Each additional round diminishes the maximum number of points you can receive. Getting perfect gold stars for your letters in one round earns you the highest game bonus.
Use your power-ups! When used at the right moment, they will help you complete letters quickly, erase mistakes and jump your letters' stars back up to gold.
Bonus hint
Play with two index fingers. Lefty captures letrons and moves the letter block. Righty pops bubbles and zaps baddies on the belt.